A Reflection on Change and Opportunities
September 23, 2023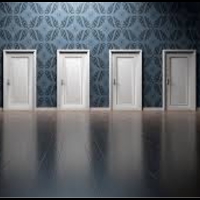 A Reflection on Change and Opportunities
Comfort and Resistance to Change
We struggle to take on New Opportunities
We develop an affection for our circumstances because we are familiar with it
As Human beings we are at the top of the food chain because we are best at adapting to circumstances
Whatever comes our way, we find a way to adapt and survive
It this very skill of adaptation that is also responsible for us creating comfort zones
We just love to make things comfortable when we make adjustments to our environment
Steve Jobs is known for hiring lazy app creators at Apple, because they will find a way to make life more easy
I think we often miss opportunities before us because we are adapted into our comfort zones
Change is something to be resisted because we perceive it is a threat to what is known and comfortable to us
So we end up ignoring opportunities until the point where we are forced to change…
Confronted with Opportunity
Isaiah 55 is written right at the end of the second part of three in the book of Isaiah - right before God's people was about to return from their exile
The time of exile was the time of loss - they did not have their promised land anymore, they lost their beacon of religion Zion anymore, the temple laid in ruins
All the leaders and young people and gifted people were taken away into exile
And while they were away in exile they adapted in their new environment
The time of exile was interestingly the time when most of the Old Testament was written down
And now they got the news that they were given the opportunity to return to their promised land - an opportunity to start over or turn a new page
They though it was never going to happen - they got use to living in a new world - they adapted - and now the opportunity to go back…
Isaiah 55
"Come, all you who are thirsty, come to the waters; and you who have no money, come, buy and eat! Come, buy wine and milk without money and without cost.
Why spend money on what is not bread, and your labor on what does not satisfy?Listen, listen to me, and eat what is good, and you will delight in the richest of fare. Give ear and come to me; listen, that you may live. I will make an everlasting covenant with you, my faithful love promised to David. See, I have made him a witness to the peoples, a ruler and commander of the peoples. Surely you will summon nations you know not, and nations you do not know will come running to you, because of the Lord your God, the Holy One of Israel, for he has endowed you with splendor."
Seek the Lord while he may be found; call on him while he is near. Let the wicked forsake their ways and the unrighteous their thoughts. Let them turn to the Lord, and he will have mercy on them, and to our God, for he will freely pardon.
"For my thoughts are not your thoughts, neither are your ways my ways,"
declares the Lord. "As the heavens are higher than the earth, so are my ways higher than your ways and my thoughts than your thoughts. As the rain and the snow come down from heaven, and do not return to it without watering the earth
and making it bud and flourish, so that it yields seed for the sower and bread for the eater, so is my word that goes out from my mouth:It will not return to me empty, but will accomplish what I desire and achieve the purpose for which I sent it. You will go out in joy and be led forth in peace; the mountains and hills will burst into song before you, and all the trees of the field will clap their hands.
Instead of the thornbush will grow the juniper, and instead of briers the myrtle will grow. This will be for the Lord's renown, for an everlasting sign, that will endure forever."
Luminal Times
We find ourselves in a liminal space - a place between places
The Latin word "Limen" that describes a time of transition
We have a reference and engraved memory of what church was in the past
Communities of Christians worshiping in their beautiful churches all with a minister dedicated to be the shepherd to the flock… the good old times! (We all love the stories of the good old times don't we?)
We are not there anymore… it is different now - churches have a lot more empty pews these days and the colour of the hair of those sitting in the pews is a lot lighter (grey), churches close down, many churches don't have ministers, and those seeking to call a minister is struggling to find one, thriving churches have made ways for surviving churches, and dare I say still recovering from the effects of the pandemic
And so we adapt - we make plans to keep the doors open - often with the idea of maintaining our picture what was in the past
And yet, there's a sense of something new happening all is not lost… if we were only willing to allow ourselves to see the great opportunity that lies before us
Work in a liminal space
Today we have the opportunity to work in a liminal space - place between places
I want to invite you to be acutely aware of the liminal space that we find ourselves in when we share and listen to each other today
And as we find ourselves in this liminal space today let us see the God of Isaiah 55
A God Who wants to work with us in establishing a convenient
A God Who keeps his promises
A God Who wants to listen so that we may live
A God Who's ways are different from ours
A God Who wants us to succeed
---
Comments
9/26/2023
Thank you for your initiatives and input Rev. Dr. Will. A time of discernment, a 'stirring of the pot' , that whatever the future holds, we come, listen, and seek God's will. May we trust in God and His word, to accomplish His desires and achieve His purposes, being open and honest in what speaks to our hearts as there will be varied views/responses to this initiative. Grace & Peace.
Brenda Calder
Add your comment